Across the board, companies within various industries tend to measure their success online based on their Improve Conversion Rate. Whatever the objective of a website is, from completing a purchase, requesting a quote, or making an appointment, these actions and conversions are what all marketing initiatives intend to help accomplish.
For brands within the eCommerce space, Improve Conversion Rate generally is measured by how many online sales are generated. When it comes to accomplishing that goal, the type of eCommerce website design your brand has played a major role in the number of visitors that turn into customers. To produce sales online it's essential that you provide your visitors with an exceptional user experience. While all brands within the eCommerce space offer vastly different products and services (and subsequently require some unique functionalities given the needs of their audience), there are certain website design features that are key to driving conversions:
1. A Strong Call-To-Action
A compelling call-to-action (CTA) is what encourages customers to take a specific action while navigating your website. These buttons should be captivating and intriguing so that the user's interest is captured and they follow through by clicking on the button. CTAs enable you the opportunity to engage users and keep them moving further down the funnel towards a conversion.
CTAs should be industry-specific and far from generic. Use enticing copy that truly encourages the user to click on the button because there is a clear value in doing so. In terms of the design, buttons should be prominent on your web pages and stand out vibrantly so that the user never has to actively look for the button.
In the example below, Bowlmor keeps their bold and visually-engaging CTA at the top of their navigation so that it's easy for users to find, without sacrificing the look and feel of their website. The CTA button fits in perfectly with the rest of their design while still capturing attention from customers.


Whether it's "Buy Now", "Get The Best Rates", or "Book Now" these buttons are critical to facilitating user engagement and driving conversions.
2. Tell Your Story
With so many engaging brands across all industries, it's difficult to stand out online, especially in the ecommerce space. To differentiate your digital presence and attract the interest of qualified customers, it's essential that you showcase your value proposition to website visitors and tell the story of your brand. What is it that makes your company unique? Is it your corporate culture? Is it the process that is used to make your products? Whatever it is that makes your brand special, your website should highlight that.
As seen below, Baldor does a phenomenal job at showcasing their value to customers online. The company is focused on sourcing the best products both locally and worldwide, and they make sure that users understand this dedication to their customers by prominently highlighting it throughout their website. In this particular example, the brand shares with visitors how their food cycle works, helping to build a strong sense of trust with their valued customers.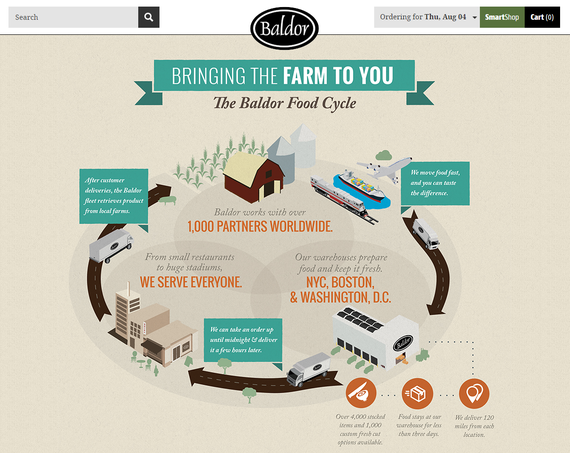 When you're trying to encourage users to complete a purchase online, it's essential that they have your trust. For most brands, the best way to instill this much-needed sense of credibility is by telling the story of their brand. This selling point could be critical for customers deciding on whether or not to purchase an item with your company.
3. Simple Messaging
Showcasing your value is essential to driving conversions. Customers want to know why they should purchase something from you. However most of the time, they don't want to read an excessive amount of copy detailing why. Clear and cohesive message that is inviting to the user without being overwhelming is essential.
Using too much copy on the homepage of your site is a big mistake a lot of brands make. Website visitors don't want to read paragraph after paragraph or they will lose interest in what your company has to offer. Instead, stick to succinct messaging on the homepage that translates to the user the core messages that you want them to know, and use landing pages to house additional content if they have want to learn more.


In the example above, BHue uses strong, compelling, yet concise copy to highlight their core messaging to visitors. By providing succinct messaging, users likely find it much easier to digest the content and understand what the brand is trying to convey.
4. Mobile
The majority of users access websites from their mobile phones, not a desktop, so it's critical that your site be optimized for mobile. To accommodate all users and their various devices, a responsive design is the best option. This type of design automatically adjusts the site to meet the size of the user's screen. Whether a customer is visiting from their smartphone, tablet, or desktop device, the pages will render as it should and offer the best user-experience possible. As depicted below, all users, regardless of device, are provided with an optimized version of your site.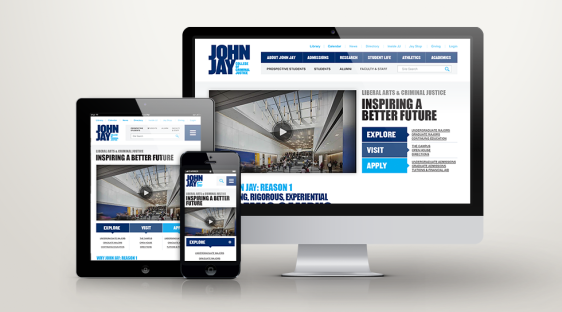 If your site isn't optimized for mobile, you're likely missing out on a wealth of opportunities to convert new users into customers. If a potential customer visits your website and has trouble in terms of usability, they're likely to leave and not return. Whether it's excessive zooming in or zooming out in order to view content, or distorted imagery, a poor user-experience with your website can be detrimental to conversions. To make sure that your site is user-friendly on all devices and up-to-par, go with a responsive design.
Ecommerce Website Design That Drives Conversions
To be successful with your digital presence, your ecommerce website design needs to be tailored to the needs of your users. Improving your engagement and Improve Conversion Rate is only possible when users are provided with an exceptional onsite experience, including everything from a site optimized for their devices, to messaging that highlights value.
If you're focusing on facilitating Improve Conversion Rate, then it's essential you focus also on usability. To learn more about effective ecommerce website design and additional examples of brands that do so efficiently,  Contact Us today.